All About Climbing Skins
Cutting climbing skins can be a royal pain in the ass. The first time can be downright daunting. Just picking the right skins can be a pain in the ass. All the educational YouTube videos and how-to articles only go so far. So, enter yet another minimally helpful how-to guide to backcountry skins. The process varies a little depending on which skins you purchase. Black Diamond sells skins in the pick your width and then cut-to the desired-length configuration. G3 sells skins ranging from x-short to x-long that do not need to be cut to length. Also, keep in mind that they also sell climbing skins for snowboards. They are cut a little different so make sure you get skins for the type of downhill device you intend to use.
Materials
I am not going to go into too much detail here. For a beginning set up, or someone just going out on the weekends for fun, get a nylon skin. They are cheaper, more durable and get the best grip going uphill. Mohair is great and all but the pure mohair and mohair mix skins are more expensive, typically get slightly less grip, and don't last as long. The advantage is they are lighter and the glide is better.
Brands
You can read reviews for days. My recommendation is go with Black Diamond or G3 skins. They are readily available and get the job done. Other brands will work great, but for a starter setup, just keep it simple and durable. Both of these come with all sorts of fun accessories.
Sizing
The first confusing as hell thing you need to figure out is what size skins you need. Don't just grab the cheapest skins. Check the size. You see plenty of skins popping up on Craig's list: "Bought these but they were the wrong size my loss is your gain...". Don't be that guy (or gal). Everyone has an opinion of how to size your skins. No way is necessarily right as long as it works for you.
The Easy Part of Sizing
How long are your skis? If you are planning to buy Black Diamond skins (or another trim to length skin), congratulations, you are done! It doesn't matter. If you are buying skins that come in different lengths, like G3, use the size chart and match the ski length to the skin size. Do not try to make the wrong size fit. I tried to. My skis are a 172. I got smalls. I believe the range is 158-169. It is close. But it really doesn't work right. Likewise, don't try to size up. It just won't fit. Don't overcomplicate this. Just use the conveniently provided size chart.
The Not so Easy Part of Sizing
Ok, great you picked your length! (or didn't have to worry about it at all!) Now, pick your width. Width usually range in various increments from 85 to 140 mm depending on the manufacturer. But skis aren't cut straight you say! Wait, what? Do you pick the width to fit the widest part of the ski? Or to fit underfoot? Or somewhere in the middle? Well, that is up to you.
Picking skins that are close to your underfoot width require the least amount of trimming. If your ski dimensions are 120-100-130, getting a 100 mm wide skin will require little, if any trimming. Congrats, that is super easy! Typically, the narrower the skins are, the cheaper they are. By Cheaper I mean a 100 mm skin might cost $5 less than a 115 mm skin. Additionally, the less area on the bottom of your ski that is covered, the less friction you will feel gliding uphill. On the flip side of this, you will get less uphill grip, which is the whole point of skins. Most people do not go with this option.
You can pick skins that fit the widest part of your ski. These require the most trimming (it's not that bad, really). These will also give you the maximum grip going uphill while providing a little more friction on your glide. The wider the skin, the more they will cost.
What I personally do, is pick somewhere in the middle. If I have to err one way or the other, I go for greater coverage. This will get you pretty good coverage and grip, save you $5 (Yay? Really, does it matter at this point? You just dropped a grand or more on a ski setup), require slightly less trimming, and provide a little less resistance when you glide.
Really, it is up to you. The one thing I recommend is DO NOT GET A SKIN NARROWER THAN YOUR UNDERFOOT MEASUREMENT. The rest is up to personal preference and what is available.
A Few Notes on Skin Accessories
Like everything these days, there are a plethora of accessories available for your skins. Most of them are not necessary. Some of them are convenient. Many skins come with a "cutting tool", skin savers, and a bag. I find the cutting tool useless, the skin savers nice, and the bag unnecessary. I totally use the bag, but only because I love stuffing everything possible into a bag. If you love buying shit, G3 makes the Love Glove which is a glorified skin saver. I have talked to people that love them and say they are the best thing ever. I am happy to use the skin saver my skins came with.
I find it easier to cut my skins using a utility knife. The Black Diamond cutting tool I used was ok. I still used the utility knife to finish them. The G3 tool was cursed at, thrown out, and replaced with a utility knife before the first rough cut was complete. If your skins don't come with the tool, never fear, just grab a utility knife and rest assured you are better off.
The skin savers are nice for keeping your glue in good condition for long term storage. I just stick my skins on either side of my skin saver and roll them up. I could then shove them in the unnecessary storage bag they came in (which I do!) or just put them in my backcountry backpack until the next outing. If you don't have a skin saver, you can purchase the Love Glove if you like spending money. Or, you could store your skins on a piece of waxed paper. This is not the most reusable option but it will certainly work.
How to Cut Your Skins
Remove your skins from all of their great packaging. There is probably some sort of clear backing protecting the glue on the skins. Remove this. Do not remove the center strip, just the clear backing. Then, follow the steps below.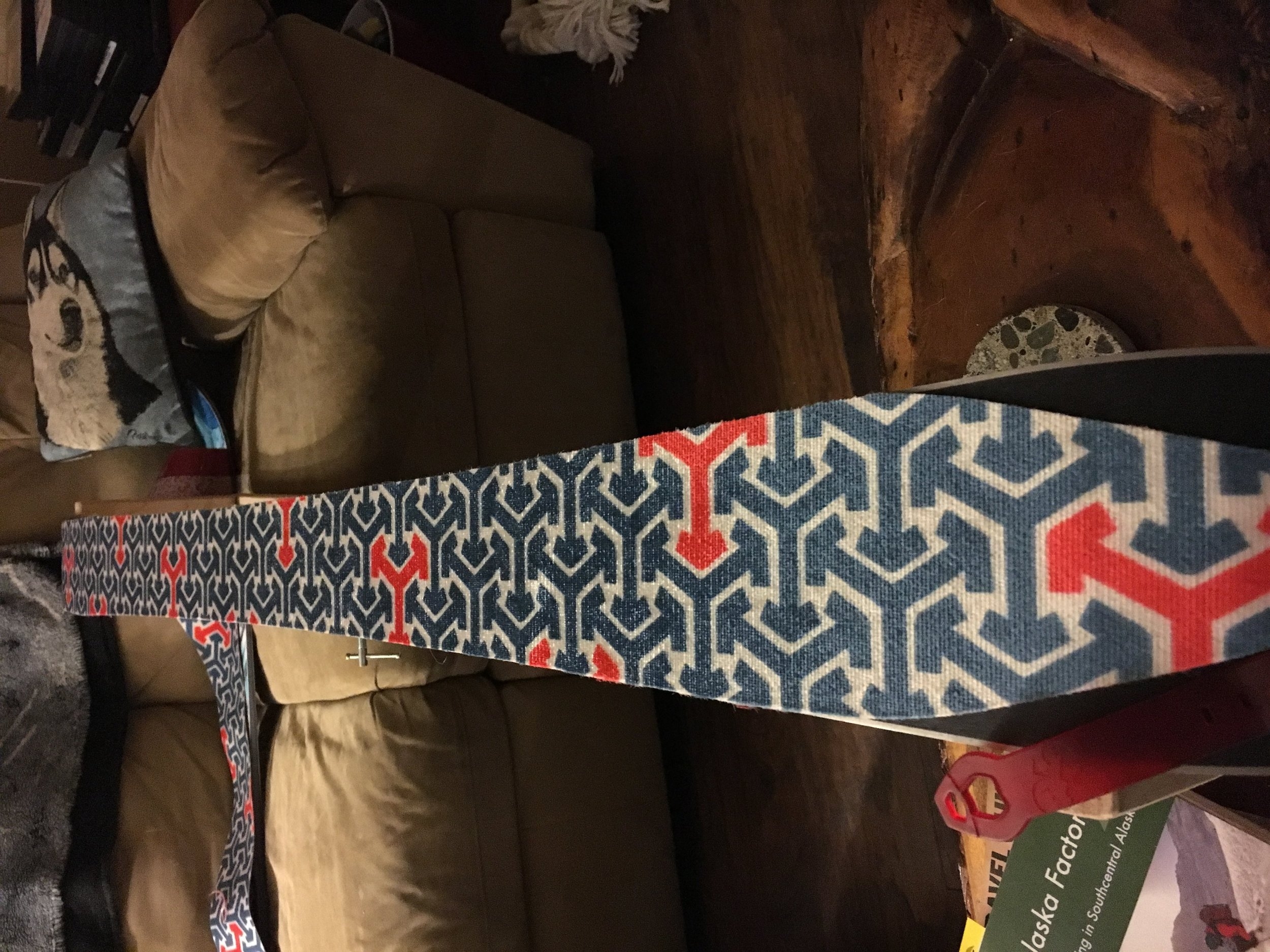 Storing your Skins for the Ride Down
There are several techniques for storing your skins for your descent. My favorite technique is rolling the skins from tail to tip with the fuzzy side out. This protects the glue and makes it easy to unroll and reapply the skins later. The cons to the method is that they take up a little more room. It could also be argued that the nylon hairs will come off on the glue; I have never noticed a problem with this, even after several seasons of use. If you are doing multiple laps, it is easy to attach the tip clips on and roll the skin back onto your ski.
The other method frequently used it to fold the glue side of the skin back on itself. Some people fold it in half, some in thirds, some in quarters. This makes for the most compact storage. Also, the skins can be kept warm in your jacket on an extremely cold day. Personally, I dislike this method. I always find myself battling the glue to get my skins apart. I find this pain in the ass not worth it. Also, this seems to cause the glue to ball up and to create creases in the skins. There must be some merit to this method as it is extremely common.
If you love carrying and dealing with extra shit, then just bring your skin saver or Love Glove to put your skins on. This might be the best method for your skins. However, the pain in the ass of fucking with a skin saver in the snow and (usually) wind is just not worth it. But, just throwing it out there as an option.
A Few Tips and Tricks
Climbing skins come with a strip down the middle where the glue is not exposed. While this strip can be peeled off at any time, don't peel it off right away. You have plenty of good glue exposed on new skins. Save this strip for an emergency when you are out and just cannot get your skins to stick. Or, if your skins are old and just not cutting it, and you don't have time to revive the glue, expose this unused glue.
If you are out and your skins just will not stick, hopefully you carry ski straps. You can strap the skins to your skis on the front and back (and middle if needed). While this may reduce glide (depending on the camber of your skis and where you strap them), it will keep your skins on and let you finish your day without any huge inconvenience. Uncooperative skins can really ruin a day.
Is your glue just not cutting it anymore? Don't waste money on new skins. There is plenty of life left! There is a simple way to just refresh the glue on your skins. If your skins are truly beat to hell, you can also re-glue your skins. There is an article on how to revive your old skins coming soon!
Long Term Storage and Care
Upon your return home, it is important to care for your skins. Skins should be dried before storage. I hang mine in a cool, dark place, void of as much dust and pet hair as possible. Unless I am lucky enough to have back to back ski trips, I usually let mine dry for 24 hours. I then store them on the skin savers, rolled up in a cool dark space. Well cared for skins should last for years.